Anke Voswinkel is specialist in labour and commercial law. Based in the Munich area, this law firm is dedicated to providing the highest quality guidance and representation to national and international clients with concerns involving a broad range of legal practice areas. Over the last twentyfive years, Ms. Voswinkel has become widely known and respected for her ability to litigate complex legal issues and for her achievements in negotiation and mediation. Ms. Voswinkel cooperates in close contact with other officially accredited specialists in labour law, civil law and international law as well as with a tax consultant in order to provide best services for her clients.
Ms. Voswinkel provides legal consulting services primarily to mid-sized companies on employment matters and dealings with works councils as well as in contract law and corporate law. She also provides legal advice in the areas of trade law and sales law.
The individual clients include employees, freelancers, agents, corporate officers, and members of boards of directors and of upper management. Ms. Voswinkel counsels and represents her clients in court and in extra-judicial settlements in all areas relating to employment and service contracts, including dismissal, termination and liability.
In recent years the German business environment has been characterised by major reorganisations and restructurings that affect both companies and employees through manpower reductions, mergers, start-ups and splitting of legal entities. The office represent employers as well as works councils in the course of such developments.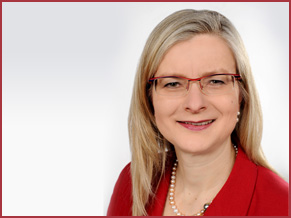 Ms Voswinkel is proud to look back on many years of experience in:
dismissals and contractual termination
disputes over job performance references
remuneration demands
She has accumulated outstanding expertise in the following areas:
negotiation and conclusion of employer/works council agreements
reconciliation of interests and severance packages
employment aspects of business transfer and restructuring measures
She also is a qualified mediator who acts to solve work place disputes and quarrels among partners of small and mid-sized companies as well as inter-company disputes. Since 1996 she has been among the pioneers in introducing commercial mediation in Germany.
Moreover, Ms. Voswinkel has long-standing experience as lecturer and trainer and provides companies with external and in-house training services.